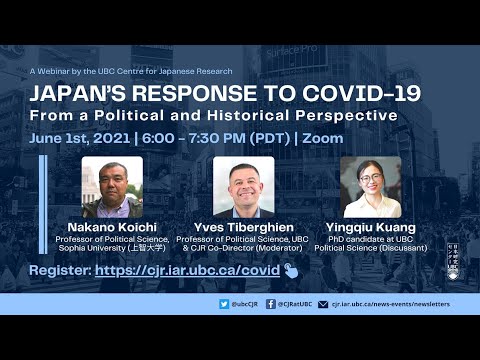 UBC Centre for Japanese Research Webinar, "Japan's Response to COVID-19 from a Political and Historical Perspective" on June 1!
As the threat of COVID-19 continues globally, Japan – the country with many densely populated cities and a large elderly population – gathers the world's attention. While its initial death numbers were relatively low, the country continuously faces challenges with the serge of case numbers and slow vaccination rollout, while still planning to hold the Tokyo Olympics and Paralympics this summer. Watch our webinar with expert analyst Professor Nakano Koichi (Sophia University, Tokyo), in conversation with UBC's Professor Yves Tiberghien and Yingqiu Kuang, for an in-depth analysis on how Japan has responded to COVID-19 from a political and historical perspective!
Date & Time
Tuesday, June 1, 2021 | 6:00 – 7:30pm (PDT)
Tuesday, June 1, 2021 | 9:00 – 10:30 pm (EDT)
Wednesday, June 2, 2021 | 10:00 – 11:30 am (JST)
Event Recording
The recording of the event is now available on the SPPGA's YouTube Channel here – https://www.youtube.com/watch?v=FJUQ6hkJHSk 
Featuring
Speaker: Nakano Koichi – Sophia University (上智大学)
Nakano Koichi is a Professor of Political Science at the Faculty of Liberal Arts, Sophia University. He specializes in the comparative politics of advanced industrial democracies, particularly Japan and Europe, and in political theory. He has a B.A. in philosophy from the University of Tokyo, a second B.A. in philosophy and politics from the University of Oxford, and an M.A. and a Ph.D. in politics from Princeton University. His research has focused on a variety of issues of contemporary Japanese politics from comparative, historical, and philosophical perspectives, including neoliberal globalization and nationalism; the Yasukuni problem; language, media and politics; amakudari and administrative reform in Japan; decentralization; the cross-national transfer of policy ideas; and a review of the DPJ government.
In English, he has published articles in The Journal of Japanese Studies, Asian Survey, The Pacific Review, West European Politics, Governance, and a single-authored book entitled Party Politics and Decentralization in Japan and France: When the Opposition Governs (Routledge, 2010), and a co-edited volume, Disasters and Social Crisis in Contemporary Japan: Political, Religious, and Sociocultural Responses, eds. with Mark R. Mullins (London: Palgrave Macmillan, 2015), among others.
In Japanese, his publication includes Ukeikasuru Nihon Seiji (Rightward Shift of Japanese Politics) (Tokyo: Iwanami Shinsho, 2015), Sengo Nihon no Kokka Hoshushugi: Naimu/Jichi Kanryo no Kiseki (Postwar State Conservatism in Japan: A Study of the Bureaucrats of the Ministry of Home Affairs) (Iwanami Shoten, 2013).
He has also frequently commented on Japanese politics for the international and Japanese media, including BBC, CNN, Reuters, AP, The Economist, New York Times, and Le Monde.
Moderator: Yves Tiberghien – University of British Columbia
Yves Tiberghien (Ph.D. Stanford University, 2002; Harvard Academy Scholar 2006; Fulbright Scholar 1996) is a Professor of Political Science, Director Emeritus of the Institute of Asian Research, and Co-Director of the Center for Japanese Research at the University of British Columbia (UBC) in Vancouver, Canada. Yves is Distinguished Fellow at the Asia-Pacific Foundation of Canada and a Senior Fellow at the University of Alberta's China Institute. He is an International Steering Committee Member at Pacific Trade and Development Conference (PAFTAD). He is a visiting professor at Tokyo University and at Sciences Po Paris. He co-founded the Vision 20 initiative in 2015.
Yves' research specializes in comparative political economy and global economic and environmental governance, with an empirical focus on Japan, China, Korea, and Europe. His latest book is The East Asian Covid-19 Paradox (forthcoming 2021, Element Series, Cambridge University Press). In 2020, he edited an online collection of papers on Japan's leadership in the Liberal International Order.
Discussant: Yingqiu Kuang – University of British Columbia
Yingqiu Kuang is a PhD candidate in the Department of Political Science. She studies emerging powers in global technology governance, global technology standard-setting and technology standard competition, with a special focus on China, Japan, and South Korea. She also works as a research fellow at a Vancouver-based think tank, Asia Pacific Foundation of Canada. Before joining UBC, she completed her undergraduate study at Peking University (China), and also obtained a double bachelor's degree at Waseda University (Japan). She can be reached by email at: yingqiu@mail.ubc.ca.
For more updates, please check back here on the UBC CJR website. If you have any questions or concerns regarding the event accessibility, please email Saya Soma at sayasoma@mail.ubc.ca.
Follow us for more events like this!
Twitter – @ubcCJR
Facebook – www.facebook.com/CJRatUBC
Newsletter – https://cjr.iar.ubc.ca/news-events/newsletters