Event recording is now available!
Event Recording: https://www.youtube.com/watch?v=ek2SdHLauEo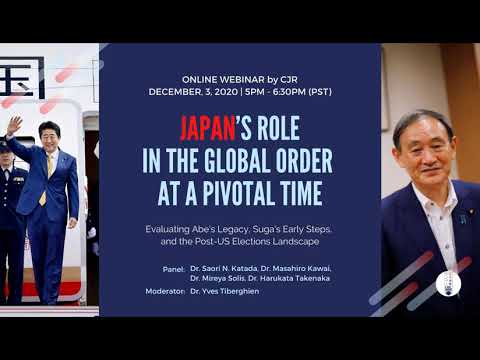 Description:
A lot has happened in the past few months in the world of Japanese politics: Abe Shinzō's  sudden resignation, Suga Yoshihide taking the office of Prime Minister, and the US-election projecting a drastic change in its foreign affairs – all the while the COVID pandemic remains a threat for the physical and economic health of the country. Join Centre for Japanese Research at this webinar with leading scholars and analysts in Japanese politics, and learn about what role Japan will take in the global order at this pivotal time.
Panel Speakers:
Dr. Saori N. Katada (University of Southern California)
Dr. Masahiro Kawai (University of Tokyo & Economic Research Institute for Northeast Asia)
Dr. Mireya Solis (Brookings Institution)
Dr. Harukata Takenaka (National Graduate Institute for Policy Studies)
Moderator:
Dr. Yves Tiberghien (University of British Columbia)
Date & Time:
Thursday, December 3rd, 2020 | 5:00PM – 6:30PM (PST)
Thursday, December 3rd, 2020 | 8:00PM – 9:30PM (EST)
Friday, December 4th, 2020 | 10:00AM – 11:30AM (JST)
"Location":
This webinar was hosted via Zoom.
CJR would like to thank all the panel speakers and participants who joined us live for the amazing discussion! Hope to see you soon again.